World Class Infrastructure
Valdel AT has invested in state of the art equipment for manufacture of composites products and systems. These provide Valdel AT with versa le infrastructure to solve a wide range of problems for its customers. The exis ng facility at Peenya has 20,000 sq feet of space for manufacturing and support ac vi es. On the cards is a much larger manufacturing facility at the Aerospace SEZ at Devanahalli, with 100,000 sq of manufacturing and support space, and with large autoclaves, C Scan machines and CNC machining centers. This world class facility will be up and running by the middle of 2020.
The Centre has been designed keeping in mind the latest technologies & is designed to have the complete suite of equipment required to design, develop & manufacture advanced composite products.
Some of the equipment in the Engineering Centre include Fully Automated Autoclave, Programmable Oven, Laser projectors, Laser trackers, Prepreg Cutter, Differential Scanning Calorimeter, Dynamic Mechanical Analyzer, and various other such equipment required for design, research, prototype development & serial production.
The Centre is also equipped with a state of the art ISO 7, Class 10000 Clean room. The unique advantage of the Design & Engineering Centre will be that of continued focus on developing products & components using the latest technologies by workiing closely with our strategic partners and stakeholders.
AUTOCLAVE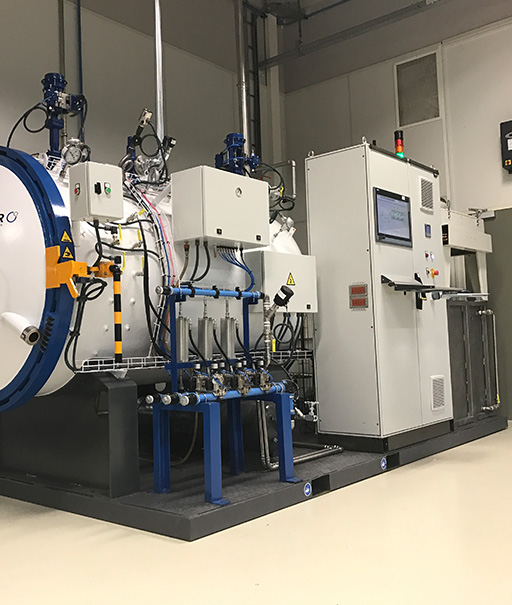 AUTOCLAVE
Aviation and military components requires stringent quality requirements. ECCT has Olmar, Spain autoclave having a working diameter of 1m and working length of 1m with an operating temperature of 250oC and an operating pressure of 10barg for laminated composites and bonded assemblies for superior laminate consolidation.
COMPOSITE CURING OVEN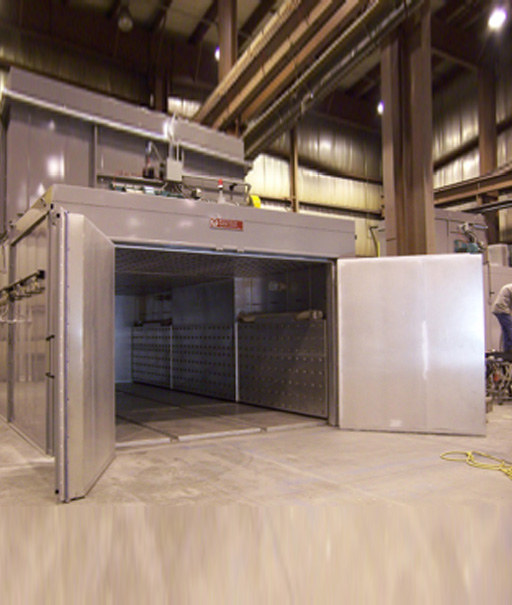 OUT-OF-AUTOCLAVE COMPOSITE MANUFACTURING
Expertise of ECCT is manufacturing of aviation products and components using Out-of-Autoclave technologies. ECCT uses manufacturing of aviation components by use of composite curing oven and by use of resin infusion technique.
COMPOSITE CURING OVEN
Aviation composites parts in ECCT will be manufactured by vacuum bag consolidation of carbon fibre prepregs and will be oven cured in controlled temperature and pressure. ECCT has composite curing oven of working area 6m (Length) x 2.5m (width) x 2.5m (height). Working temperature range is 250oC with close temperature control and uniformity.
RESIN INFUSION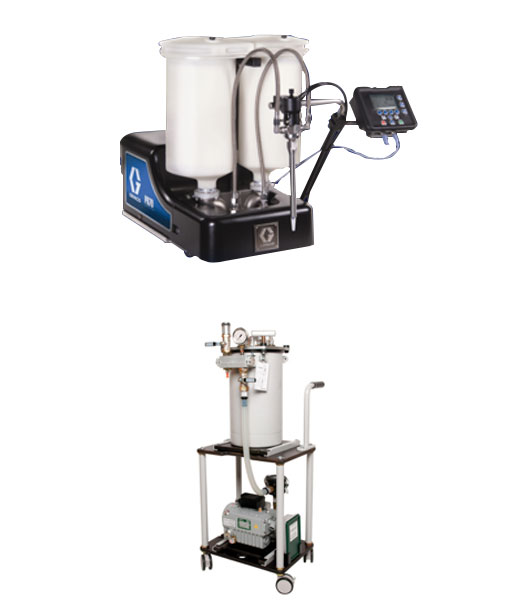 RESIN INFUSION
Resin infusion will be used in ECCT as out-of-autoclave technique for producing aviation components. ECCT has Graco PR70 from USA and Vacmobile Modular 2S, New Zealand for resin infusion. PR70 has a variable ratio of 2.5:1 to 5:1 for accurate metering, mixing and dispensing medium to low viscosity resins for potting, gasketing, encapsulation and syringe filling. Heavy duty Vacmobile Modular 2S equipment will generate vacuum for the resin to impregnate reinforcement layers using vacuum infusion technology.
PREPREG AND FABRIC CUTTER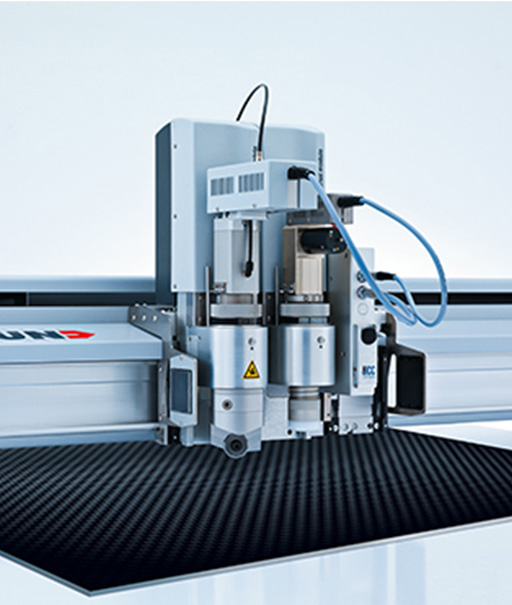 PREPREG AND FABRIC CUTTTER
ECCT has Zünd digital cutter G3 M-2500, Switzerland having a working area of 1330mm (width) and 2500mm (length) with a provision for 3 tool module slots and a wide range of cutting tools for cutting prepregs, woven carbon and glass fibre, honeycomb and foam cores . The purpose of Zünd digital cutter is for cutting of reinforcement layers to accurately and consistently cut composites reinforcements. Cutter optimises material usage with minimal waste and increases productivity.
LASER PROJECTORS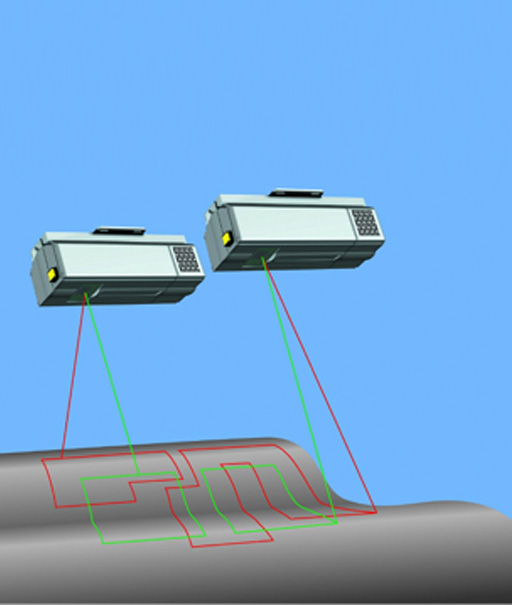 LASER PROJECTORS
ECCT has three LAP laser, USA projectors with green laser. Each individual laser projector has an operating range of 9m having an accuracy of ±0.1mm/m. The purpose of laser projector is to carry out accurate positioning and layer-by-layer placement of prepregs and woven fabric on mould for manufacturing aviation components and products.
LASER TRACKER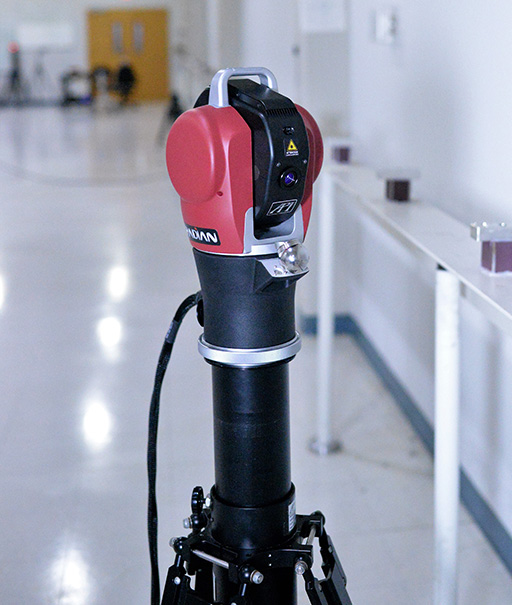 LASER TRACKER
ECCT has RADIAN (IFM+ADM), USA laser tracker having a working range of 20m radius with an accuracy of 10µm. Purpose of using RADIAN Portable 3D measuring Coordinate Measuring Machine (CMM) is to measure the master moulds and components made out of composites to manufacture highly accurate aviation products and components having close tolerances and profiles.
THERMAL ANALYSIS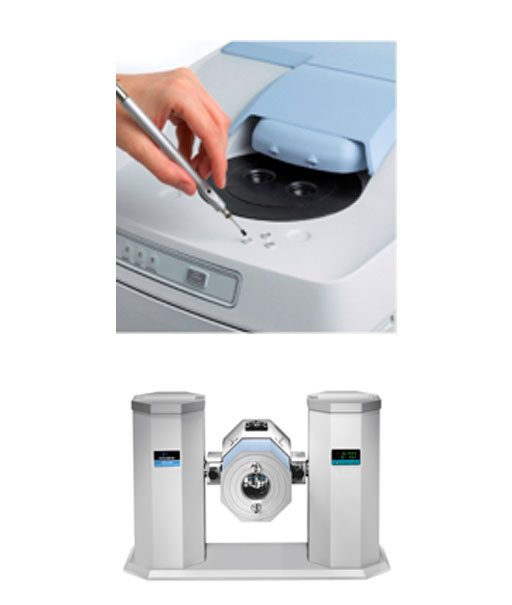 THERMAL ANALYSIS
ECCT has Differential Scanning Calorimeter (DSC 8000) and Dynamic Mechanical Thermal Analysis (DMA 8000) from Perkin Elmer, USA. DSC is used for studying resin cure process. DMA is used for studying physics and mechanics of polymer material under high and low temperatures (-150°С to +600°С).
OLYMPUS SCANNING MACHINE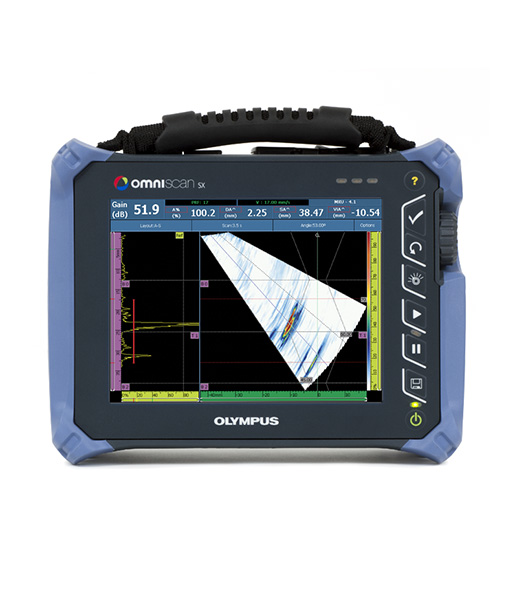 OLYMPUS SCANNING MACHINE
ECCT has Olympus OmniScan SX, USA for carrying out NDT control on composite structures.
Valdel Advanced Technologies in association with MSRUAS has set up the design center which has capabilities of end to end design. The team has worked on multiple projects & works with CAD, Fibersim, ESI Group, ANSYS & other softwares for the same. The Design Center is located within the Engineering Center so that activities from Design to Component & Tooling design to Prototype development go on seamlessly to give a quick turnaround for the customers The Design has a team of professionals with exprience in multiple projects in the following areas.
Design & Analysis
Valdel AT offers a range of design engineering and project management services that draw on our capability to offer end-to-end project delivery covering a comprehensive list of services.
DESIGN OF MECHANICAL SYSTEMS

At present, VEC is capable of undertaking FEED review for licensed / proprietary plants or units. This review will confirm the adequacy and consistency of basic engineering provided by Licensor in the FEED package, for detail engineering and procurement activities to begin. For public domain plants or units ("open art" plants or units), VEC is capable of developing FEED in-house, e.g. for crude stabilization, gas distribution network, utilities and off-sites as well as general civil work.

FINITE ELEMENT ANALYSIS

VEC executes detailed engineering for a variety of projects mainly in the field of oil and gas. The work is carried out in 2D or 3D platform as per the client requirement. The activities performed comprise design calculations and analysis, and preparation of data sheets, fabrication drawings, equipment layouts, piping general arrangements, earthing and lighting layouts, area classification drawings, instrumentation system architecture, logic diagrams, loop diagrams, technical specifications, piping isometrics, MTO's. etc. 3D model is delivered at the end of the project. VEC also conducts 3D model review at different stages of a project, with participation by EPC contractor, client / PMC and process licensor if any. VEC has implemented a state-of-the-art Electronic Document Management System through which movement of documents between VEC and external agencies, and within VEC are very efficiently managed during the course of engineering.

KINEMATIC & DYNAMIC ANALYSIS

VEC's project management services consist of coordination of the engineering activities leading to the timely execution of a project in line with terms of the contract to the client's satisfaction. The talented pool of the engineering personnel combined with their experience is a major strength which VEC utilizes in carrying out all the activities of the project effectively. The efforts of the various departments are coordinated together in a logical and a systematic pattern resulting in successful completion of the project.

COMPUTATIONAL FLUID DYNAMIC ANALYSIS

VEC provides Procurement Engineering Services for preliminary design, data sheets, specifications, request for quotations (RFQ's), technical queries (TQs), vendor interaction, technical bid analysis (TBAs), purchase specifications (PS) and vendor drawings / document review (VDR).
Team & Infrastrcture
The Design Center has an experienced team which has worked on multiple projects in the areas of Design & Development, Structural Analysis, Kinematic Analysis, Dynamics, Computational, Fluid Dynamic Analysis, Thermal Analysis, Product Design & Manufacturing Simulation for various Clients across various verticals.
Our Team has hands on exposure to all the leading software used in the Design & our center equipped with all the necessary infrastructure to provide a seamless experience to the client.
Technical Resource
The Design Center is fully equipped with various software such as
Modelling Software
CATIA-V5, Unigraphics-NX, Solid Works, etc,
Analysis Software
Anysys, Nastran, Abaqus, etc,
Simulation Software
Adams, LMS Motion, Matlab, etc,
Manufacturing Software
Pro/Cast, Sys weld, Pam stamp
valdel AT
Engineering Facility

Attention
This website is best viewed in portrait mode.